ABOUT
From a very early age, I was creative and spent much of my time experimenting with different tools and materials to make all manner of things from toys to furniture. After leaving college I took a job with a local tool hire firm. It was here that I discovered chainsaws and became intrigued by the possibilities of using them to create sculptures. I started my own chainsaw carving business in 2006. To begin with I produced small sculptures and portable art, inspired by my natural surroundings in Exmoor national park. As the business grew I travelled all over the country demonstrating the carving process at shows and selling smaller pieces whilst producing commission work.
In 2012 I won both the Sandringham Cup and the English National Chainsaw Carving Competition – alongside 35 of the world's top chainsaw carvers – with a sculpture of the Kraken rising.
As my skills flourished I started to produce larger commissions and contemporary art pieces. I travelled to Germany to work on a record-breaking 30ft high sculpture of the Virgin Mary for the Healing Castle at Schochwitz. In 2015 I was commissioned to create a large wooden skeleton for Street Artist D*Face, which was exhibited in Malaga, Spain as part of his Wasted Youth exhibition. I now work primarily on large scale artworks. My detailed wooden sculptures have become highly sought after, both as interior design pieces and for use in outdoor spaces.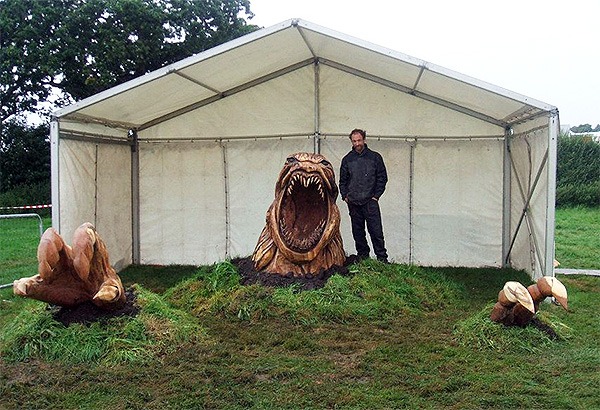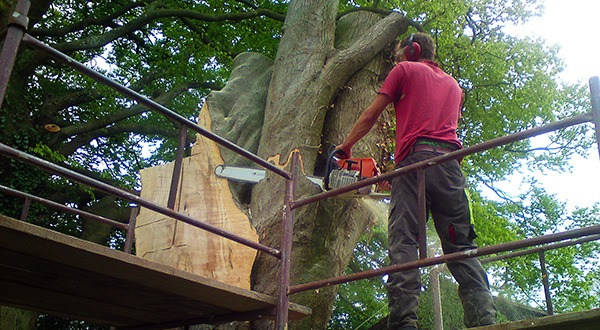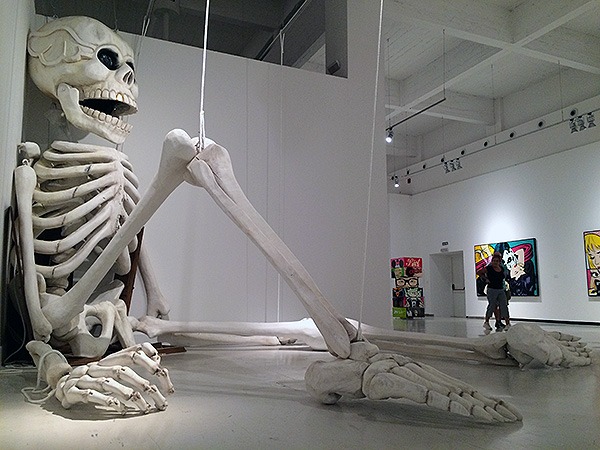 PROCESS
The use of a chainsaw for wood carving allows large amounts of wood to be removed very quickly. I use a range of chainsaws which enable me to carve from very large pieces of timber, progressing to smaller chainsaws for finer detailed sculpting. Chainsaw carving can be done in any place that it is possible to stand by the timber. For very large carvings I use a scaffolding tower allowing an entire tree to be sculpted rather than felled. Some customers have commissioned large feature chainsaw carvings created from a trunk with smaller accompanying sculptures carved from felled top sections and branches.
Each wooden sculpture that I create is part of a progression that inspires the next. I want to be impressed by the finished result as much as my clients are. Each work of art is inspired by the particular properties and characteristics of the wood I am working with – therefore no two pieces are ever the same.